Last Updated on August 23, 2022 by ReTurf
When artificial grass is first installed, a layer called infill is spread over the grass blades. This infill material is what helps give the turf its springy/natural feel. It also provides weight to keep the turf in place and helps to protect the blades from wear and tear.
(See The Anatomy of Artificial Grass for more information about the layers that make up artificial turf.)
One of the most popular materials used for infill is sand. Sand infill has a number of qualities that can make it a good choice in artificial grass installation. But, before we talk more about sand infill specifically, let's look at the three primary types of infill:
Crumb (granulated) rubber – This is the most common type of infill with artificial grass, and it gives the turf a nice, spongy feel that is perfect for recreational activities. It also has great shock-absorption, which is why it's often used in sports fields. In wet climates, rubber infill has the best retention and drainage.
Sand – As we'll discuss in more detail below, sand infill has a number of benefits. There are several types of sand infill, with the most common type being silica sand (due to its lower price). Silica sand comes in round and subangular shaped granules, with the round type maintaining their shape and wearing at the artificial grass less than rougher sand. Other sand infills are man made and come with their own unique benefits. (A little more on that below.)
Zeolite – This is a newer type of infill that has become popular in recent years. It's made from a volcanic mineral, and it has great odor absorption properties (making it a preferred infill for turf in pet spaces). However, it is very lightweight, and heavier infills are generally preferable. Zeolite is sometimes combined with rubber for better results.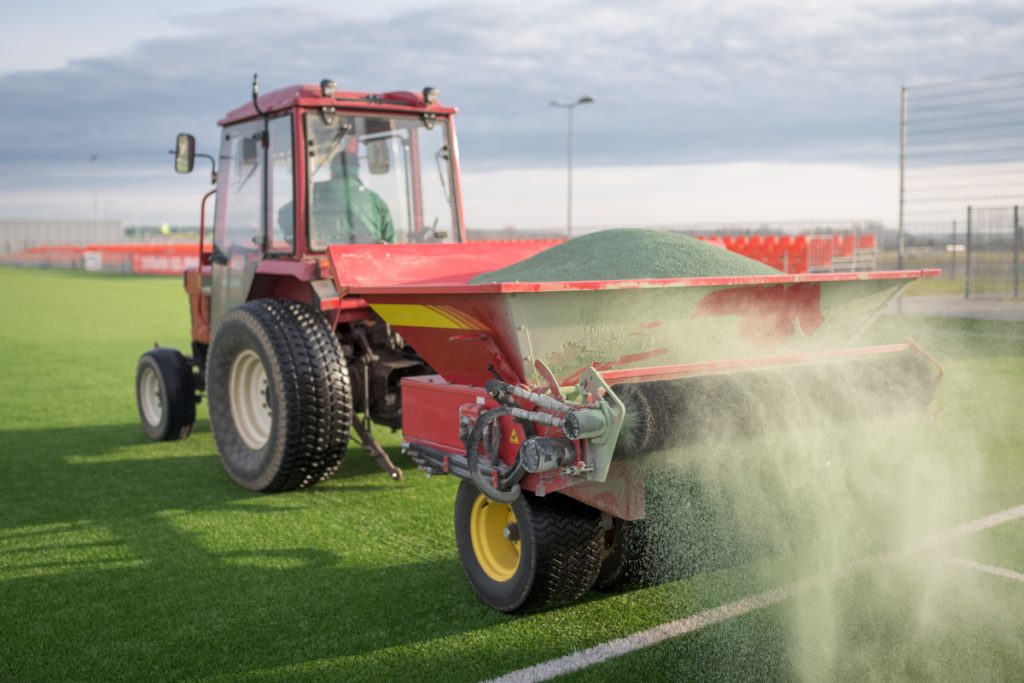 Now that we've looked at the three main types of infill, let's talk about sand infill specifically—There are several benefits to using sand infill with artificial grass:
Weight – While not as heavy as rubber, sand is heavier than zeolite. This weight helps to keep the turf in place, especially in high traffic areas. It can keep turf held down along contours and in other uneven/difficult areas. In fact, sand infill can even be enough to hold turf in place along existing fencing, driveways, pavers, concrete edges without requiring additional edging.
Heat – Silica sand absorbs less sunlight and heat than rubber, making it a good choice in hot climates— and some man-made sands trap even less heat.
Durability – Sand granules degrade more slowly than rubber, for even better durability. For "high traffic" areas, some man-made sands are designed to be extra resilient against foot traffic.
Grass Stays Upright – Sand infill is helpful in keeping the blades of artificial turf standing upright. It provides a little bit of resistance when the blades are pushed down, which helps them to spring back up.
Natural Feel – Last but not least, sand infill gives artificial turf a more natural feel. If you've ever walked on grass barefoot, you know that there's a little bit of give. This is because natural turf contains soil, which has small particles of sand in it. Compared to crumb rubber, which is made of recycled tires, sand infill has a more natural feeling.
Some Are Antimicrobial – Certain manmade sands have antimicrobial qualities, which can help to keep turf clean and free of bacteria—especially important in public places, as well as areas where pets and children play.
Tip: Some installations mix sand with rubber for increased firmness and better shock absorption, or sand with crushed rock/gravel to help prevent the sand from becoming "hard packed" over the years. A mix of crumb rubber and silica sand can offer the benefits of both types of infill. Used turf infill made of rubber and silica can be a great way to save money on your artificial grass installation project.
Some people wonder if the sand in the infill layer will work its way out of the artificial grass (and into the house). While a little loose sand is normal, in a professional turf installation, unless there is some type of physical damage to the turf, it should not be tracked into your home or business in any significant amount, even by pets or children.
These are just a few of the reasons why sand is such a popular choice for artificial turf infill. Remember that each of the three primary types of turf infill have their own advantages and disadvantages—so if you're considering artificial turf for your home or business, be sure to talk to your artificial grass installer about what type of infill would work best for your needs.