Last Updated on August 11, 2022 by ReTurf
Installing artificial turf in your backyard or playground area is a great way to create a safe and fun place to play for your children.
Not only will they be able to enjoy the benefits of playing on soft, cushiony turf, but you'll also have the peace of mind knowing that they're not playing on hard concrete surfaces, or around rough mulch and rocks.
But what about the play equipment? Trampolines, swing sets, slides, jungle gyms—can they be used on artificial grass?
The answer is yes! Playground equipment can absolutely be used on an artificial turf installation. There are a few important considerations to keep in mind, however:
Tips for Installing Playground Equipment on Synthetic Turf
First and foremost, you'll want to make sure that all equipment is installed on a level surface. This is important for safety (and aesthetic) reasons. Uneven equipment can be unstable and dangerous, and it will also look odd if it's not level. This is equally important on natural grass and synthetic grass alike.
Secondly, you should always follow the instructions when installing and using playground equipment—and if in doubt, consult the manufacturer.
Here are some other tips to keep in mind when using playground equipment on artificial turf:
Swing Sets: Swing sets can be placed on turf, but they should be anchored into the ground to ensure stability and prevent shifting. Use appropriate fasteners for your swing set to secure it to the ground, not the surface of the turf.
Trampolines: Trampolines are a great way for kids to get exercise, but they can also be dangerous for kids if they're not used properly. Synthetic turf is the perfect surface for a trampoline because it's soft and forgiving, making it safer for kids who fall off.
Climbing Structures: Climbing structures like jungle gyms and slides can be placed on artificial turf, but they should also be anchored securely to the ground using appropriate stakes, fasteners, or other anchoring equipment to prevent shifting. Install a climbing structure on your synthetic lawn and let your kids enjoy hours of fun!
Finally, always use appropriate fasteners for the application. When attaching swingsets or other equipment to artificial turf, be sure to use the appropriate fasteners to ensure a secure connection. Screws, stakes, or other anchors are usually a good option, but it will depend on your specific application.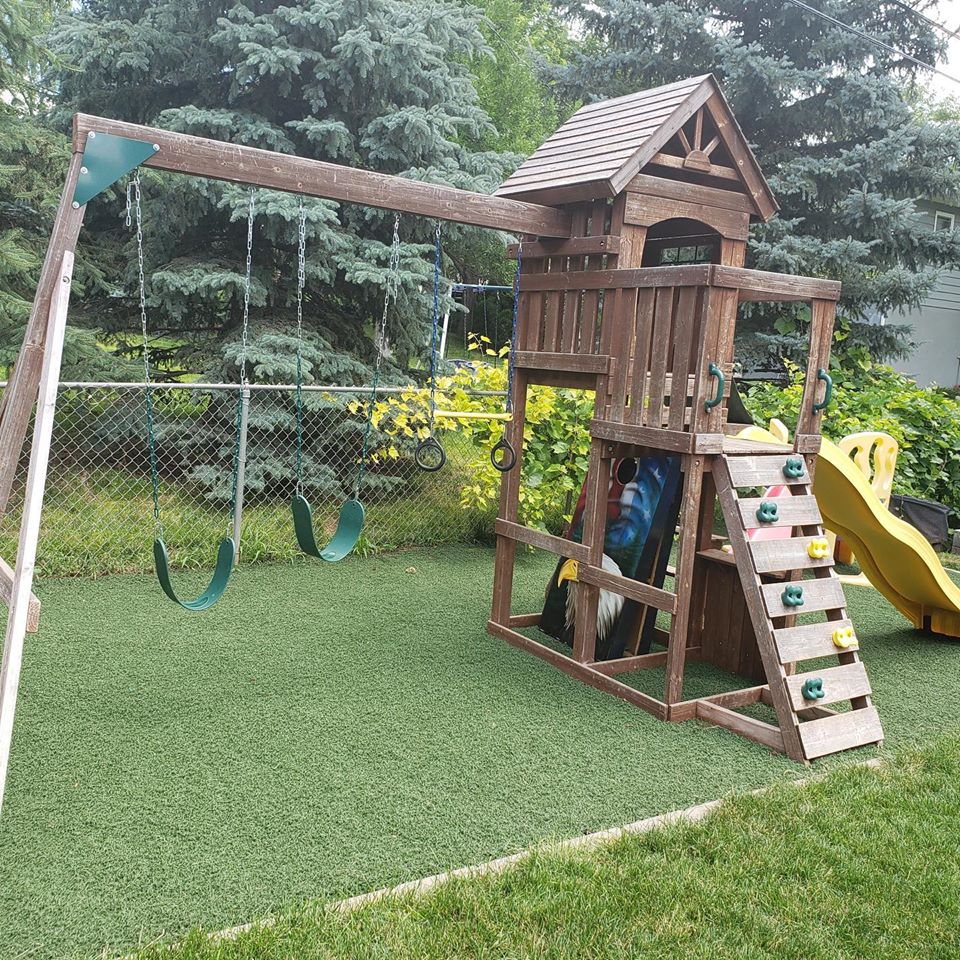 Will the legs or the base of the playground equipment damage the turf?
In general, the legs/base of the playground equipment will not permanently damage the turf unless the equipment is the type that needs to be anchored into the ground for safety (as with a swing set, jungle gym, and some other types of equipment).
Otherwise, the weight of childrens' playground equipment is usually distributed well, so there is little risk of damaging the professional-grade turf unless it needs to be done on purpose to anchor things into the ground. For example, a kids' clubhouse may press the grass blades down temporarily, but unlike regular grass, it's an easy fix (i.e. it won't leave behind an unsightly patch of dead grass everywhere it's moved).
Fortunately, if the turf is damaged by anchoring or the weight of the equipment, it usually isn't difficult or expensive to repair—in many ways, it's a lot more straightforward to cut out and replace a section of synthetic grass than it is to repair damaged natural grass.
Even if the weight of the equipment compresses the grass blades on high-grade artificial turf for an extended period of time, it usually only requires some "brushing up" to return it to its original state.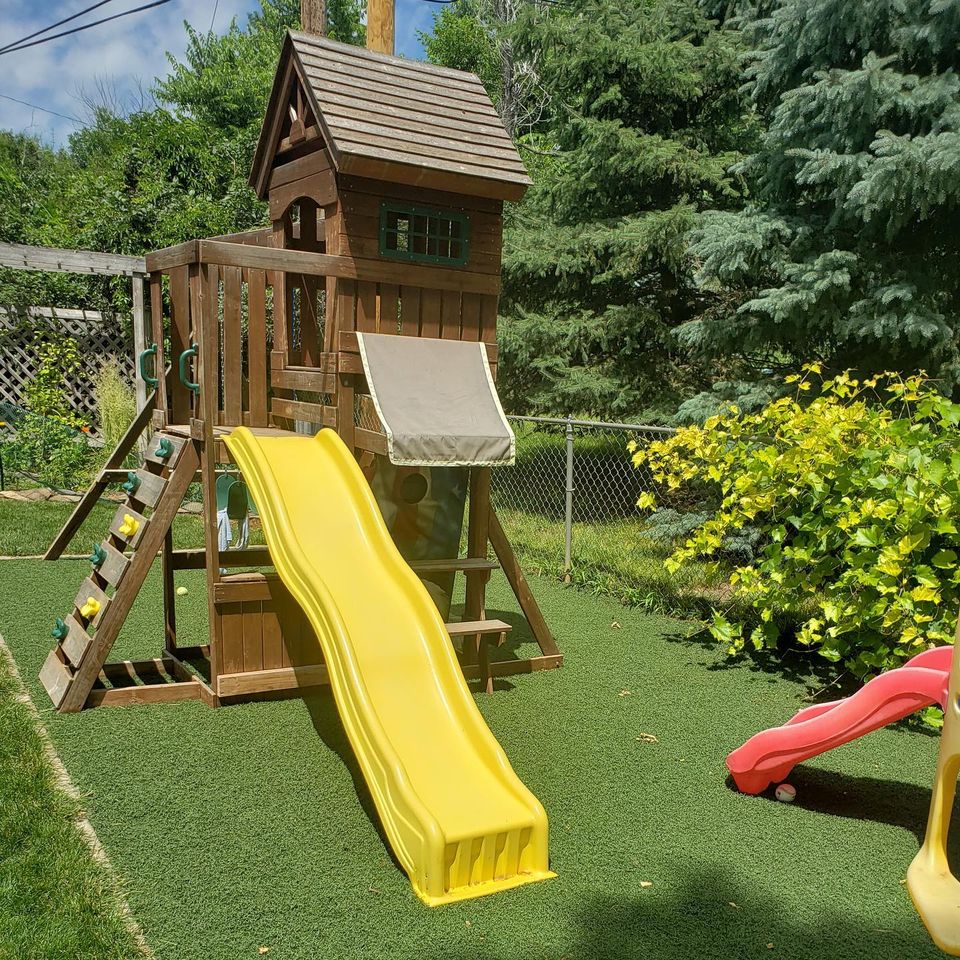 What if the kids spill food or drinks on the turf?
Don't worry. If the kids spill food or drinks on the turf, it's not a big deal. Artificial turf is designed to be durable and easy to clean and maintain, so you can simply rinse it off with the garden hose, or clean it with a mild soap.
Conclusion
Kids may not appreciate the low cost or the easy maintenance and clean up of an artificial lawn, but they will certainly enjoy the softness and the hours of fun they can have playing on it! (And you'll appreciate the peace of mind that comes with knowing your children are safe and the turf is durable.)
When it comes to playground equipment and artificial turf, they're a perfect match. There are endless possibilities for what you can do with artificial turf and playground equipment. With synthetic grass, you can create a fun—and safe—place to play for your children for years to come!