Last Updated on June 15, 2022 by ReTurf
One of the most striking trends in both contemporary landscaping and hardscaping designs is the use of grass in the gaps between paver stones.
However, when natural grass is used, too often the gaps between the paver blocks become a home for weeds—defeating the clean look that was intended.
Artificial grass is the solution to this extremely common, frustrating problem. And because of its many advantages, it's an increasingly popular choice for both homeowners and professional landscape designers alike.
This unique application of artificial turf and paver stones can create a beautiful, low-maintenance outdoor space that will impress your guests and elevate your property value.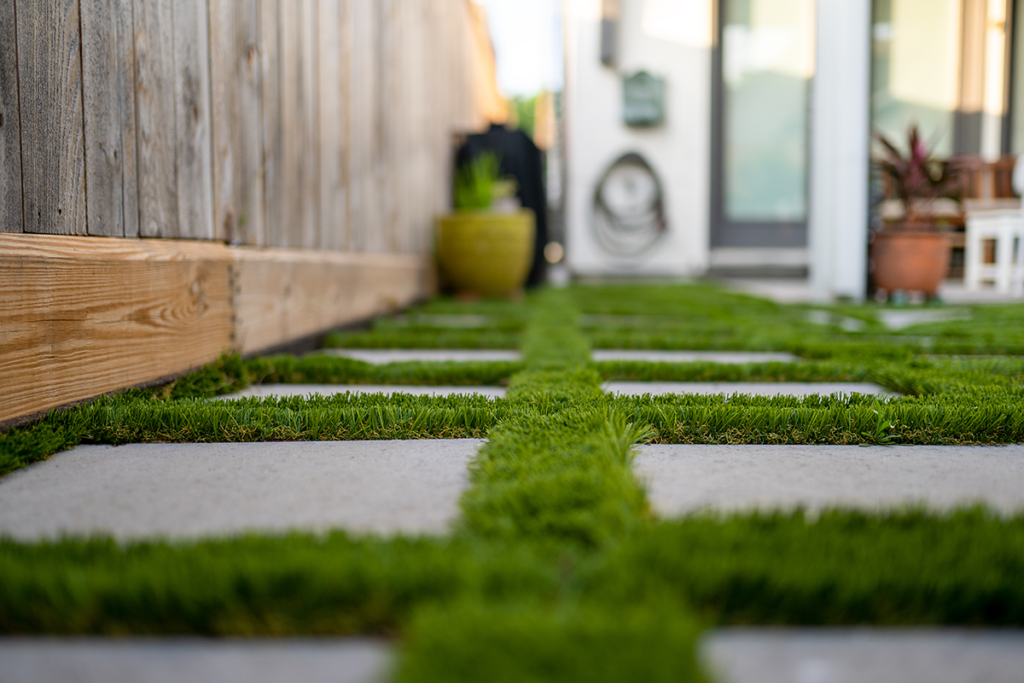 Why Use Artificial Grass Between Pavers Instead of Regular Grass in Landscaping/Hardscaping?
Artificial grass between pavers is a logical choice for many reasons. Here are five:
First, artificial grass can be less slippery than regular grass, making it ideal for outdoor areas where you and your guests walk frequently.

It's also ecologically friendly, as it doesn't require the use of pesticides or other chemicals. Plus, it's safe for the entire family, including pets and children. (Selecting recycled, pro-grade used artificial grass from ReTURF is even more green—

here's why.

)

There's also a lot of flexibility in how and where it can be installed, so it can be used to create a variety of looks—from more traditional landscaping to more cutting-edge, contemporary hardscape designs.

Another key advantage is that it can be used in areas where regular grass wouldn't stand a chance—for example, in shaded areas or in spaces with poor drainage. In other words, it's the perfect solution if you have a heavily-shaded area in your yard where you'd like to

create a hideaway

or run a pathway using grass between pavers.

Because it doesn't require watering or mowing, it's low maintenance—perfect for busy families or those who want to enjoy their outdoor space without the hassle. This also removes many of the considerations about placement that come up when using regular grass between pavers (i.e. "Can we fit a mower or a string trimmer in this space without damaging anything? Will we

want to

on a weekly basis?")
Many homeowners spend hours every week watering, mowing, and fertilizing their grass, only to watch it grow weeds and fungi after it rains, turn brown in the summer heat, provide a haven for insects, spiders, moles, snakes, and other pests—then turn brown again in the winter.
Does this cycle sound familiar?
Regular grass is not exactly the type of ground covering you want to use between pavers in a walkway or area you'd like to keep clear for foot traffic and/or entertaining.
Installing artificial grass between pavers means you can finally say goodbye to all of those hassles and enjoy a beautiful, green lawn all year round. So whether you want to create an attractive, practical surface for outdoor entertaining or an elegant pathway, installing artificial grass between pavers is definitely worth considering!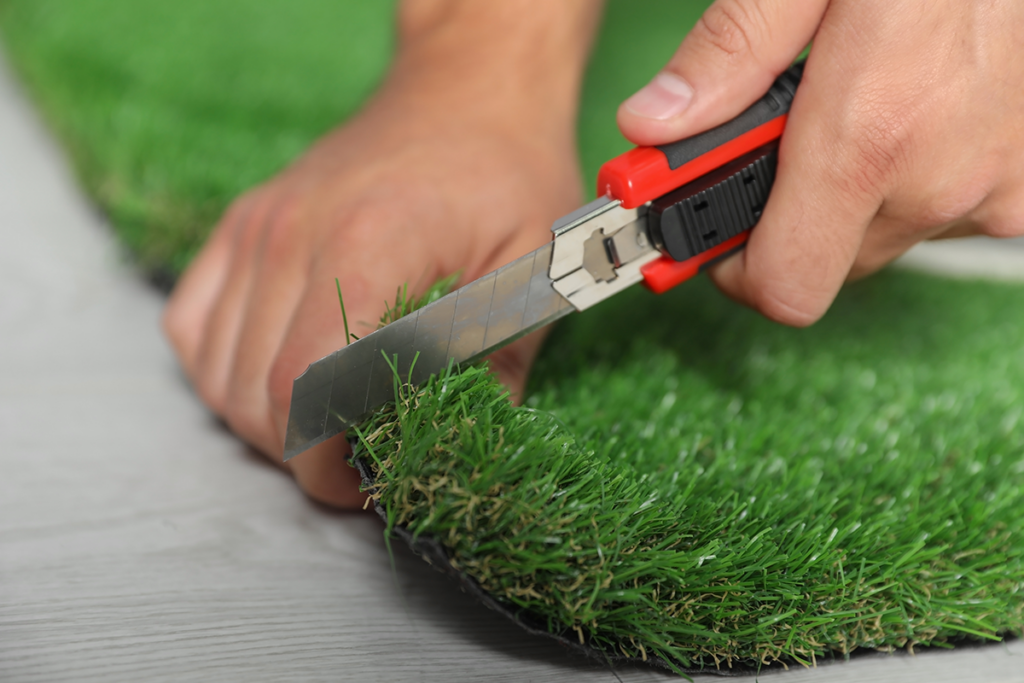 Installing Artificial Grass Between Pavers
The key to success with artificial grass between pavers is proper installation. If done correctly, your artificial grass will stay in place and provide years of virtually maintenance-free enjoyment.
Some homeowners are surprised to learn that achieving this contemporary look isn't as out of reach as it might seem. With some careful planning, the right product selection, and the help of professional artificial grass installers, you can create an outdoor space or path that will stay looking perfect for years to come.
High-grade artificial grass products like the ones used by ReTURF are made of extremely durable synthetic materials that help resist fading, damage, and common wear and tear. Professional-grade artificial grass also requires very little maintenance—once it's installed, all you'll need to do is occasionally sweep away leaves and debris, or give it a quick rinse with the hose.
By installing artificial grass between pavers, you'll enjoy a clean, perfect look (and functionality) all year round without any the pests, overgrowth, irrigation, or other hassles (and expenses) of using regular grass.
So if you're ready to say goodbye to lawn care, consider using artificial turf in your next landscaping/hardscaping project.
Conclusion
If you're looking for a low-maintenance lawn option that still looks great, artificial grass between pavers is a great choice. It's easy to install and doesn't require nearly as much upkeep as natural grass does. Whether you're looking to create an elegant pathway or a beautiful, functional surface for entertaining, artificial turf + paver stones is a versatile landscaping option that will wow your guests and make you the envy of your neighbors!
Want to discuss your artificial turf installation with the experts? We'd love to discuss your project with you and answer any questions you have. ReTURF has the most competitive pricing in the artificial grass industry, and we are happy to pass that along to you with the product that fits your project's exact needs. Contact us here, or give us a call at (828) 518-5787.