Yes, you can install artificial turf outdoors in the winter! Cold temperatures will not significantly affect the installation process—other than making it a bit less comfortable for the installers—as long as the temperatures aren't extremely low.
If the ground is frozen or the temperatures are too cold for products (i.e. adhesives for turf tape) to set properly, you may need to wait until the weather warms up. That said, turf should be installed when temperatures are above freezing and the ground is not frozen.
In general, artificial grass is designed to be used in all climates and temperatures, so the turf itself will not be adversely affected by the cold weather. Snow and ice can delay the installation, but depending on the severity of the snowfall and temperature, an experienced crew can still perform a successful turf installation even in the winter.
To ensure a successful installation, it's important to hire qualified and experienced artificial grass installers. If you live in a colder part of the country and you do choose to install synthetic turf in colder temperatures, make sure that you know what you're doing. Here are some tips for a more successful installation during the winter months:
Tips for Installing Artificial Grass in Winter
Snow and ice on the ground can lead to unevenness or bumps in the newly installed surface. If the weather includes sub-freezing temperatures and/or snowfall, it is important to take extra care when laying out and stretching artificial turf.
Make sure that all your tools are rated for low-temperature use. Winter weather can take a toll on tools, equipment, and hardware, so make sure that you have quality products specifically designed to handle harsh conditions.
Adhesives (such for turf tape) generally take longer to set in the cold, so you should allow for extra drying/curing time. Additionally, you should try to keep snow and ice from wetting the adhesive, as this could negatively affect the bond between the materials. It is important to follow any cold weather/humidity instructions set forth by the adhesive manufacturer to ensure proper installation.
Make sure that the turf is completely dry before you add infill—this will help the infill spread evenly and settle properly. Moisture can cause the infill to clump together, which could result in an uneven surface.
Don't use any chemical snow/ice melters on turf unless they are specifically made for use on artificial grass. You can use these safe methods to remove snow from fake grass. If you absolutely must melt the ice "now," you may use salt, but do so sparingly. Normal amounts of salt won't damage artificial grass, but sending a ton of salt into your drainage system (and into the environment) probably isn't something you want to do.
In cold weather, artificial grass may seem temporarily stiffer and less springy during installation. This will go away as the material warms up, so don't be too concerned. Try to keep the blades as uniform and as flat as possible, but keep in mind that the turf will settle into its intended shape as the weather warms up (and after a few days of use).
Following installation, stay off the turf for 24 hours or longer to ensure that the adhesive has had plenty of time to dry completely. Doing this will help preserve the integrity of the turf and your newly installed synthetic grass.
If inclement weather interrupts your artificial grass installation, you may cover any exposed areas of the project with a tarp during periods of inclement weather to make things easier on yourself.
However, don't keep yourself up at night worrying about normal winter weather ruining your installation—snow and ice can cause delays, but won't necessarily prevent you from installing a beautiful new artificial turf lawn in the winter. (If the weather is especially harsh or severe, you may want to wait until Spring to commence the project.)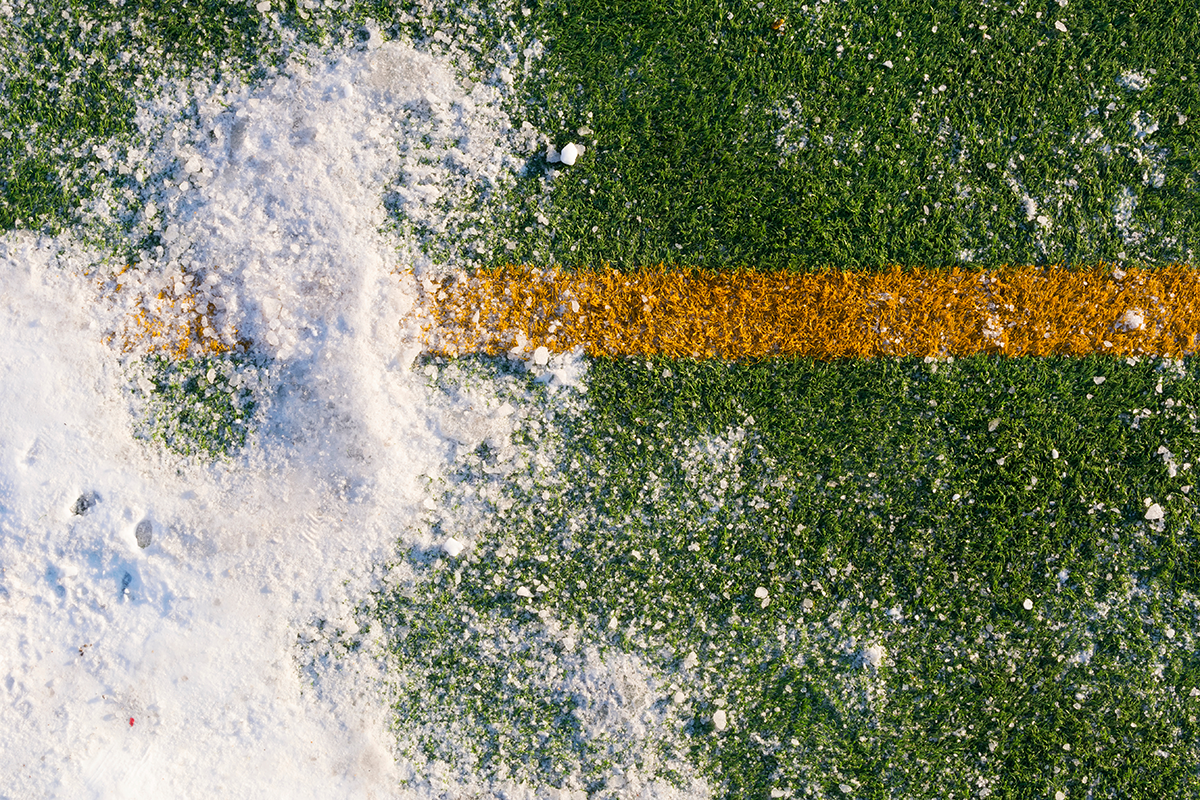 Installing fake grass over the winter can be done with proper preparation and by taking the necessary precautions. If you have any questions or concerns, always consult artificial grass professionals before beginning your project. Taking the time to do this can save you time, money, and potential headaches in the long run.
Artificial Grass Installation
As you can see, installing artificial turf in the winter is often possible. With proper preparations and precautions, your project should come out looking perfect and ready to use as soon as the weather warms up.
And before it does, you'll still be able to enjoy the sight of a beautiful, verdant lawn that you can be proud of—even when everything else is drab and grey.
Have fun with your winter project—and enjoy the rewards when it's done!
For more information on installing artificial grass, contact the experts at ReTURF. We have years of experience and a wealth of knowledge to assist you with all of your artificial turf needs. We're here to answer your questions and assist you with your project planning needs. Don't hesitate to reach out and get in touch with us. Give us a call at (828) 518-5787 or click here to email our team.