Last Updated on March 15, 2023 by Eric Bonnemon
Nothing screams "summer!" like splashing around the pool and soaking up some rays. One major thing to consider when planning or re-doing the area around a pool is the type of ground cover you choose.
While many homeowners opt for decking, concrete, or pavers immediately surrounding the pool, the area just beyond that is often overlooked.
Whether you have an in-ground pool or an above-ground pool, it's important to consider the grassy area surrounding the perimeter of the pool as well.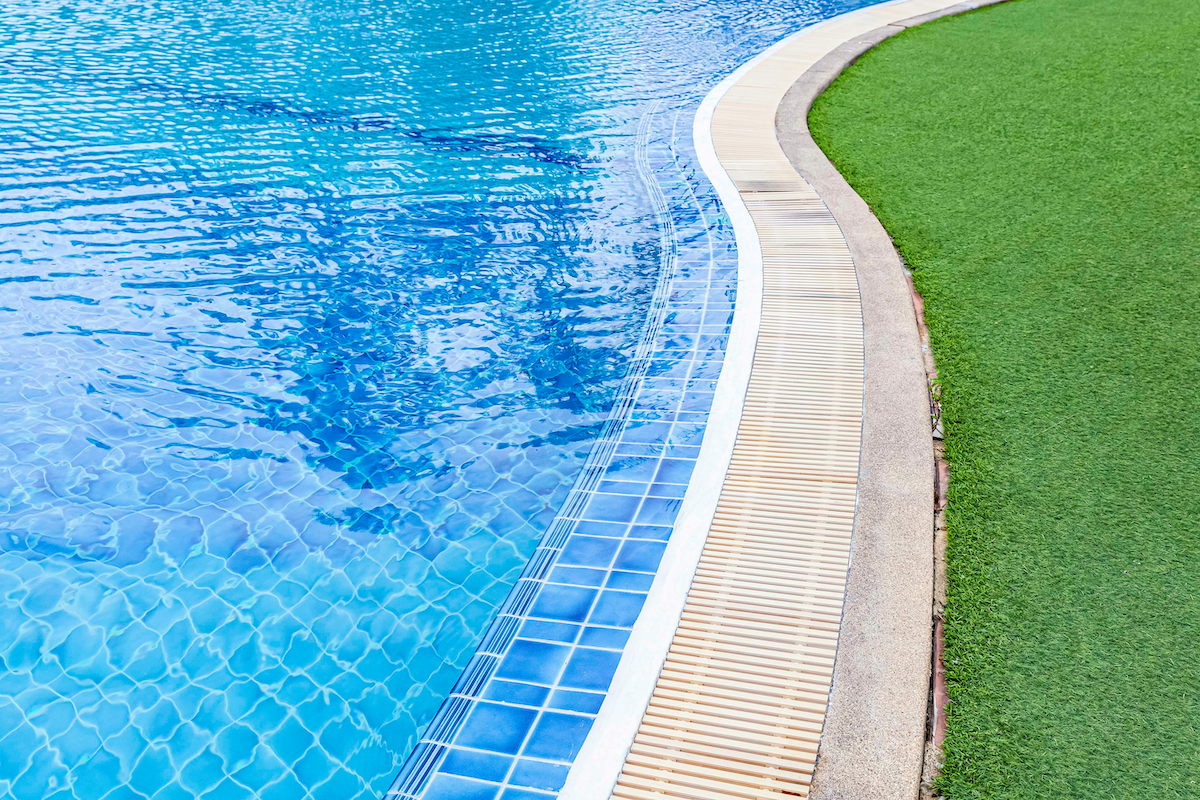 Natural grass may seem like a decent-enough option at first—but it comes with a set of potential issues that can turn your summer paradise into a hot mess:
Contamination of pool water – Grass can release pollen, debris, and grass clippings that can contaminate the pool water. Anyone who's had a pool can tell you: grass in the pool is an annoyance. But in some cases, dirty pool water can even lead to a build-up of bacteria, parasites, and other microorganisms that can be harmful to swimmers and pets.
Slippery surfaces – Grass can become slippery when wet, which can create a slip hazard for swimmers, especially if the grass is left uncut or overgrown.
High maintenance requirements – Maintaining grass around the pool can be time-consuming and costly, requiring regular mowing, trimming, and watering to keep it looking healthy and tidy.
Aesthetics – Grass can create a beautiful and natural-looking pool area, but if it is not maintained properly, it can detract from the overall look and feel of the space.
Insect and pest problems – Grass can attract insects and pests such as mosquitoes, ants, and rodents, which can be a nuisance for swimmers and can even pose health risks.
Lawn chemicals in the pool – The use of fertilizers, herbicides, and pesticides to maintain grass can result in chemical contamination of the pool water or the surrounding environment, posing potential health hazards for humans and pets.
Chlorine damage to grass – Likewise, pool chemicals can hurt living grass. Chlorine is a common pool disinfectant that can damage grass if it is repeatedly splashed onto the lawn or if the pool's water chemistry is not properly balanced. This can cause the grass to turn brown or even die, making it necessary to replace the damaged areas.
Artificial grass solves many of the problems that homeowners with grass around their pool decking deal with. Let's dive deeper into why artificial turf works so well around pools:
Artificial Grass Can Have Better Drainage than Natural Grass
We all know water and slippery surfaces are a recipe for disaster, especially when you've got little ones running around. And when natural grass gets soaked, it can turn into a mud pit that ruins your pool water. Yikes!
But when you install new or used artificial grass around your pool, you won't have to worry about any of that.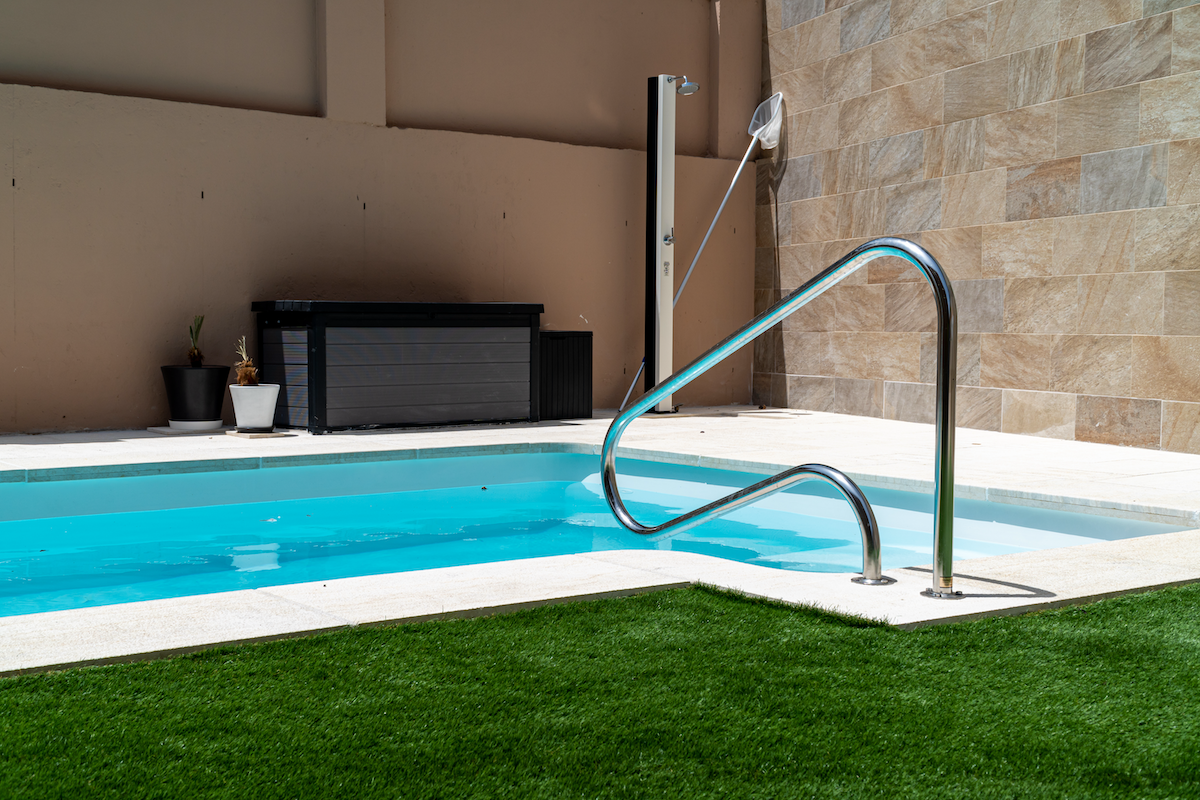 Many homeowners who are leery of the idea of landscaping with "fake grass" are surprised to learn that professionally-installed artificial turf can drain more efficiently than most lawns.
In addition, artificial turf won't become a muddy mess when it gets wet, unlike natural grass. This means that there won't be any mud or debris tracked into the pool, keeping the water clean and clear.
High-Grade Artificial Turf is Resilient & Low Maintenance
Artificial turf installation may seem more expensive than natural grass at first, but it's actually a wise investment in the long run due to its many benefits.
Although the upfront cost may be higher, it requires minimal maintenance and can last for decades, making it a cost-effective choice.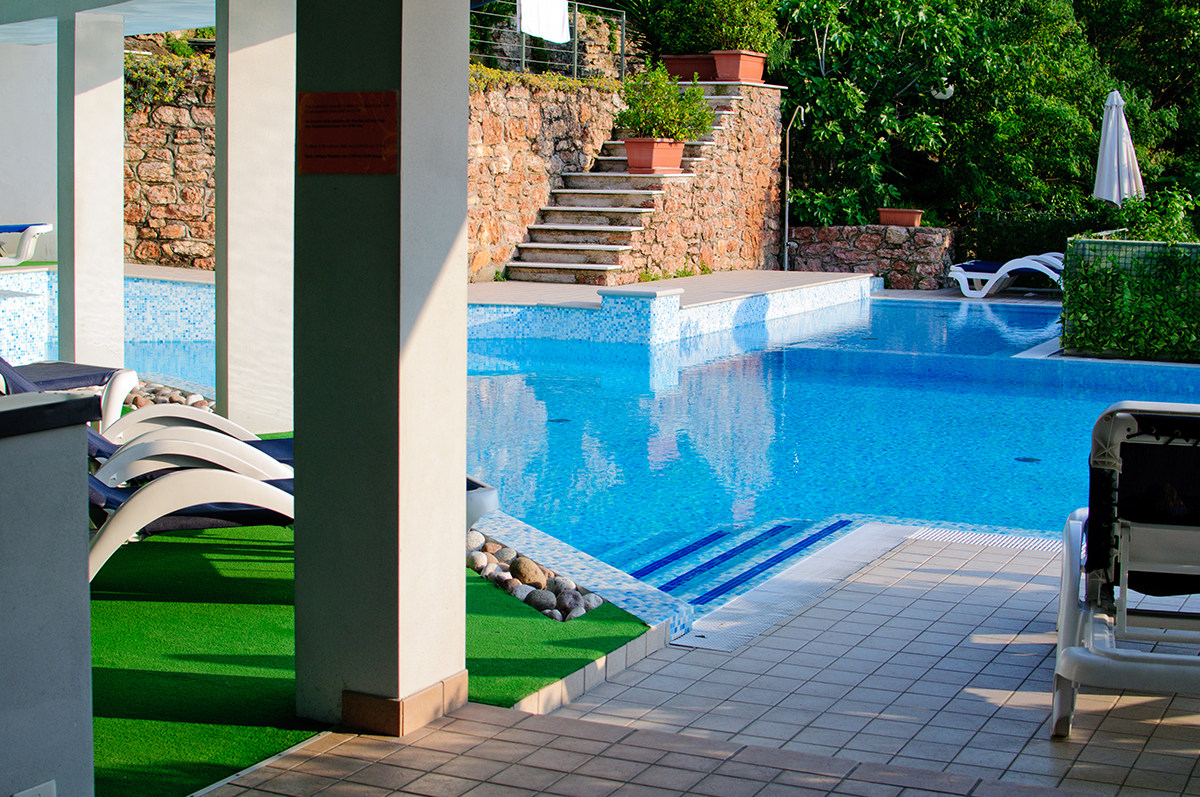 Moreover, it's extremely durable and can handle foot traffic without losing its color, shape, or texture. UV-stable treatment that keeps it looking vibrant and green all year round. Some synthetic grass can even stand up to chlorine exposure!
When it comes to artificial turf around your pool, maintenance is key to keep it looking great. Fortunately, it's a breeze to maintain: Simply sweep or rinse down the turf with the hose every now and again to keep it clean, green, and free of debris. (Almost a rhyme!)
Final Thoughts
Who wants to waste their summer days struggling to keep the lawn looking perfect? With artificial turf around your pool, you'll have more time to kick back, relax, and enjoy your own personal oasis.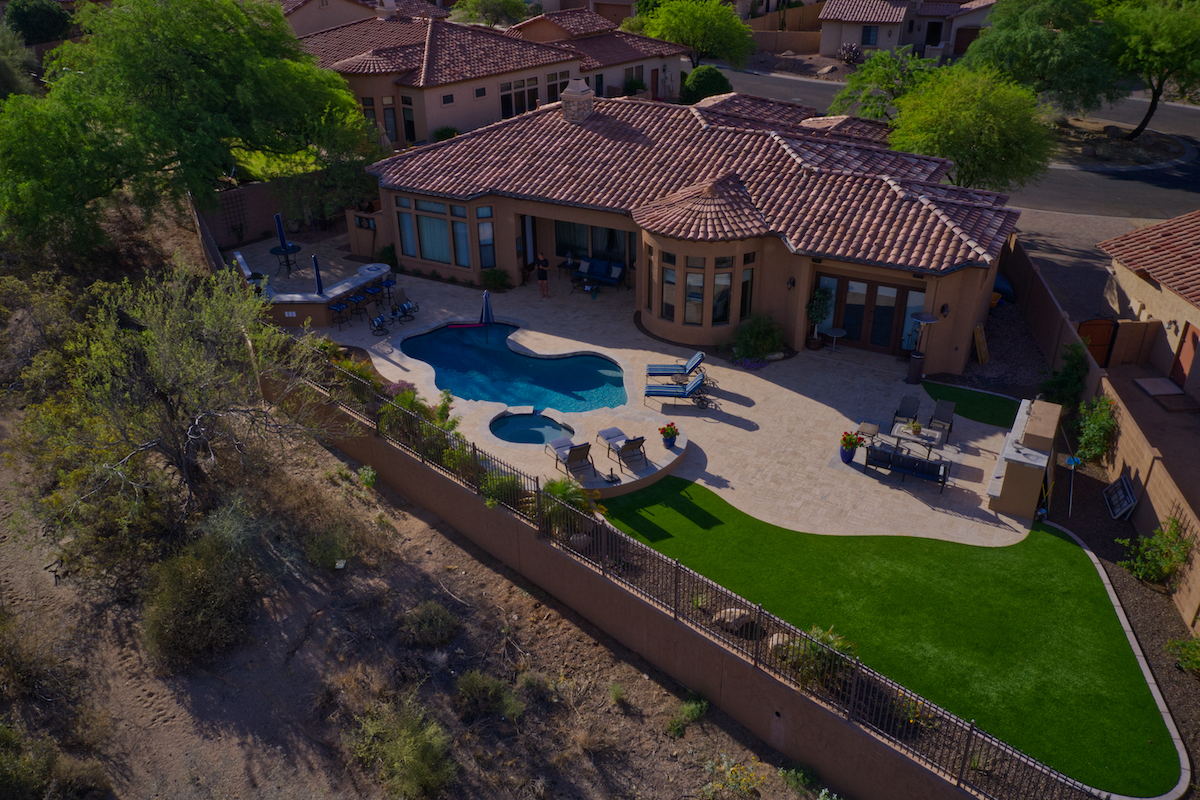 Plus, you won't have to worry about grass clippings getting in the pool, chlorine killing grass, or people tracking muddy footprints into the house. With synthetic turf, you can have a pristine, low-maintenance pool area that's always ready for some fun in the sun.
Artificial turf's benefits make it a "natural" choice for homeowners who want to create a beautiful pool area; one that their families can enjoy (and their neighbors can be envious of) for years to come.