Commercial property owners have long been turning to artificial turf to create beautiful, low-maintenance landscapes that are perfect for a variety of businesses. From office buildings and retail centers to restaurants and hotels, synthetic grass can be a great solution for any number of commercial applications.
Financially-savvy property owners see the value in investing in artificial turf because it requires no water (other than the occasional cleaning), no chemicals, and very little maintenance. All that adds up to big savings on your water bills—and a smaller carbon footprint for your business.
Additionally, properly-installed professional-grade artificial turf is remarkably durable, and can withstand high-traffic areas, making it ideal not just for outdoor lawns, but areas with lots of customer traffic like lobbies, decks, and patios as well.
Given all of these advantages, synthetic grass is a perfect fit for any business that wants to create a beautiful landscape for customers and tenants while saving money on ongoing maintenance costs.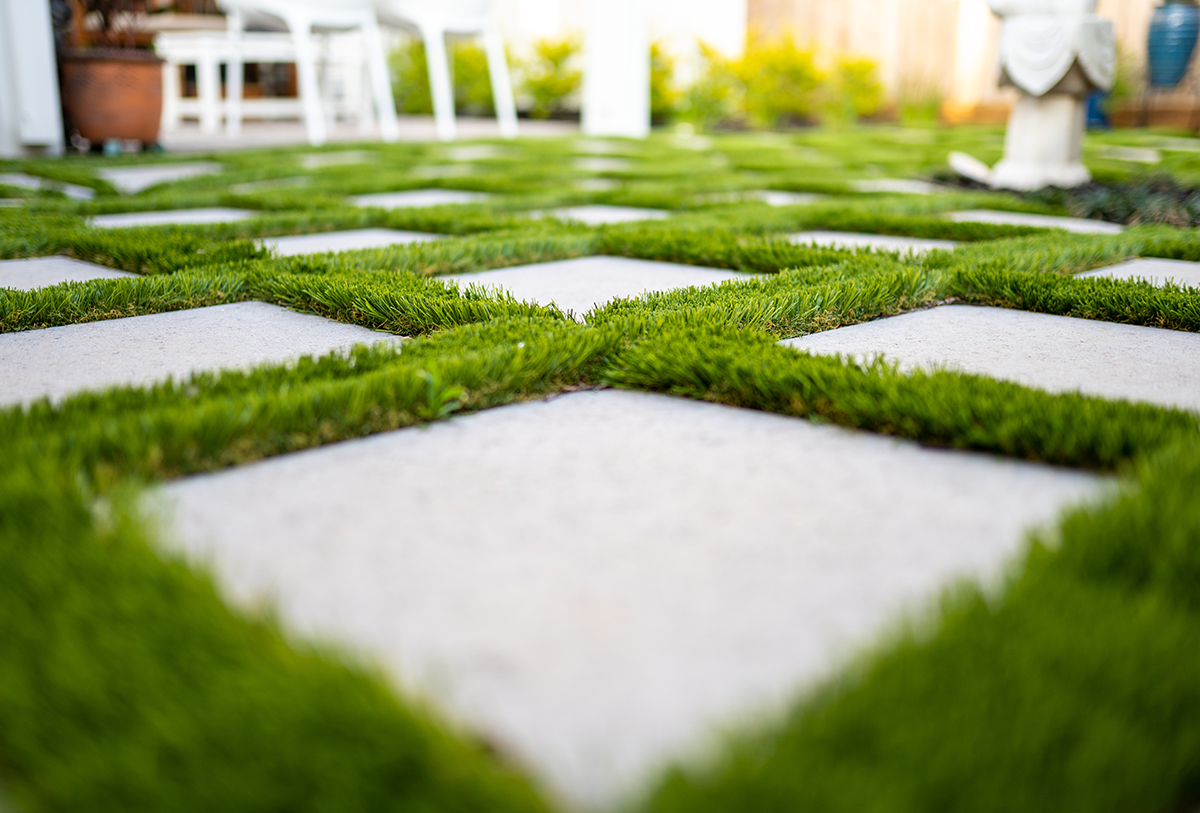 Here are just a few of the benefits that artificial turf can offer your business:
Benefits of Using Artificial Turf for Your Commercial Property
Aesthetic Appeal – One of the most important points for commercial property owners is visual appeal. An attractive landscape can impress and attract clients and customers, or even help close deals with potential buyers or tenants. A lush, green lawn is the perfect way to add visual interest and beauty to any property, and with artificial turf, there's no need to worry about brown patches or unsightly weeds.
Low Maintenance – One of the main reasons commercial property owners choose artificial turf is that it requires little to no maintenance. Once it's installed, all you need to do is brush or rake it occasionally to keep it looking its best. There's no need for mowing, watering, fertilizing, or reseeding—which means you'll save money (and hassle) in the long run.
High-Traffic – Artificial turf can withstand high-traffic areas better than natural grass, making it ideal for landscapes that see a lot of foot traffic. And because artificial turf doesn't get muddy or compacted like natural grass can, artificial turf is also perfect for areas that see a lot of foot traffic. You've probably seen artificial turf used in high-demand applications like batting cages, gyms, playgrounds, dog parks, and sports fields. There's a reason it's such a popular choice for these high-traffic areas—it can take a beating and still look great!
Safe – Artificial turf is a soft, flexible surface that's gentle on the feet and knees, making it a safe choice for play areas and high-traffic areas. It's also slip-resistant, so you won't have to worry about people slipping and falling on wet grass.
Lower Irrigation Bills – Now, more than ever, commercial property owners are looking for ways to reduce their water use, and artificial turf is a great way to do that. Once it's installed, artificial turf requires no watering (other than the occasional cleaning), which means you can save significant money on irrigation—and won't have to worry about droughts or water restrictions.
Environmentally Friendly – Artificial turf is an eco-friendly choice for commercial landscapes because it doesn't require the use of pesticides, herbicides, or other harmful chemicals. It also doesn't need to be watered, so you can save water and help the environment. What's more, since synthetic grass doesn't need to be mowed or fertilized, there are no carbon emissions from gas-powered lawn equipment. (Not to mention the chemicals that can run off into our waterways when we fertilize or treat our lawns.)
Additional Benefits of Used Artificial Turf
Choosing used artificial turf is an even more eco-friendly option. These products are made from perfectly good, usable turf that would otherwise end up in landfills.
Stadiums and sports facilities often replace their artificial turf sports fields on a regular schedule, rather than basing it strictly on the amount of wear. This means that the turf they discard often has years and years of useful life left in it.
This is because the turf used in stadiums and other sports applications is extremely high-grade compared to what's often marketed to homeowners for residential use (especially the type of artificial grass sometimes sold at big box stores).
Used artificial turf from ReTURF is the same high-grade, durable product used in many professional stadiums—but at a fraction of the price. This makes it a smart, affordable, eco-friendly choice for commercial landscapes.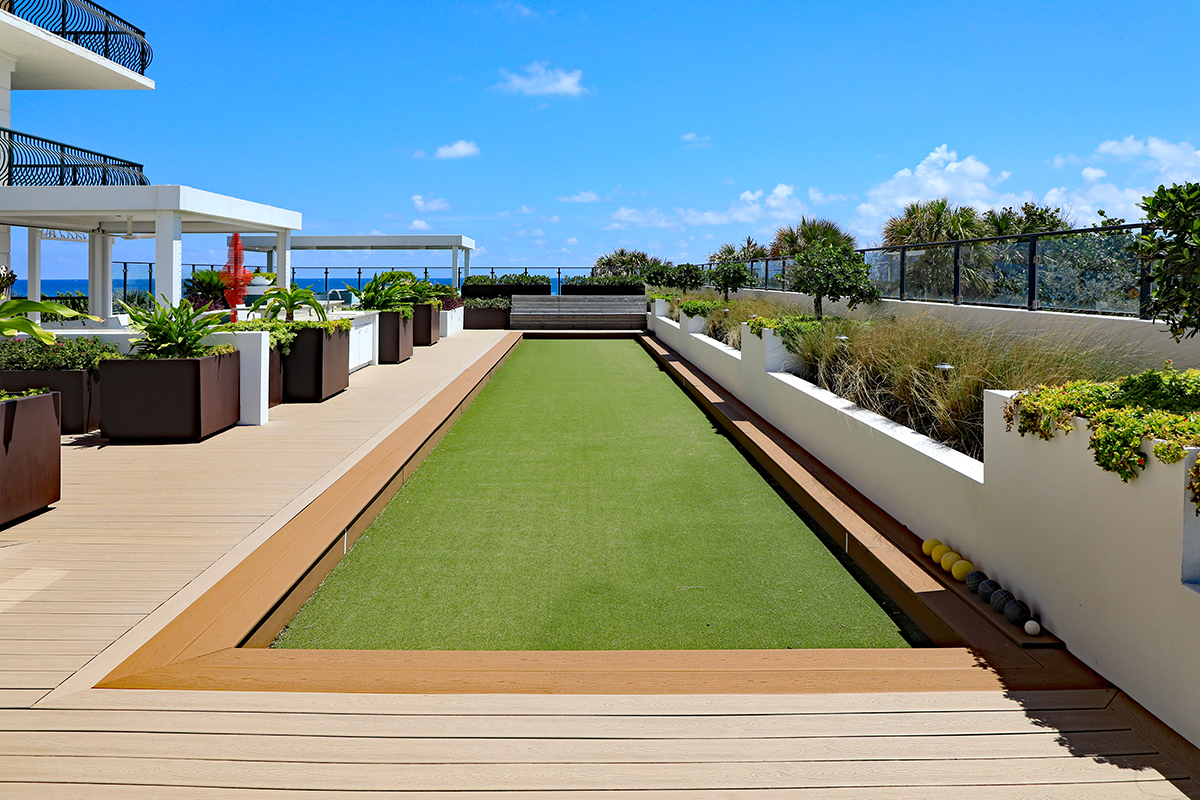 Conclusion
There are many reasons to choose artificial turf for your commercial landscape. It's attractive, low-maintenance, durable, safe, and eco-friendly. And if you choose used artificial turf, you can feel good knowing that you're doing your part to reduce waste and be green—while saving some green yourself.
Installing artificial turf is a great way to reduce your environmental impact while still enjoying a beautiful, green lawn. And, with all the money you'll save on watering and maintenance, it's an investment that will pay for itself in no time!
A more beautiful, green landscape with less maintenance? That's a win-win for any property owner—residential or commercial.
So, if you're considering making the upgrade to artificial turf for your business or commercial property, be sure to keep all of these benefits in mind. And if you'd like to save even more money and be even more eco-friendly, consider choosing used artificial turf for your needs.
Have Questions?
Contact ReTURF today to learn more about your artificial turf options—our professional staff is available to answer your questions and help you with your project planning needs. Give us a call at (828) 518-5787, or click here to request a quote.